Low Cost HVAC Carbon Dioxide Sensor NDIR CO2 Sensor - MisIR
Low Power 20mW
Measurement ranges from 0 to 1%
Low noise measurement (<10ppm)
3.3V to 5V supply.
Digital (UART)and Voltage Output Options
Automatic calibration
Operating Conditions: 0°C to 50°C; 0 to 95% RH, non-condensing
Accuracy: ±50 ppm +/- 3% of reading
Quantity:

-

+
Product Specification
Low Cost HVAC Carbon Dioxide Sensor NDIR CO2 Sensor
Summary
MisIR is a low power (20mW), high performance CO2 sensor. Based on GSS patented solid state IR sensor technology and innovative optical designs, MISIR is configured to meet the requirements of the HVAC and Demand Led Ventilation markets.
• Low Power 20mW
• Measurement ranges from 0 to 1%
• Low noise measurement (<10ppm)
• 3.3V to 5V supply.
• Digital (UART)and Voltage Output Options
• Automatic calibration
Specification
General Performance

Warm-up Time

< 20 seconds

Operating Conditions

0°C to 50°C

0 to 95% RH, non-condensing

Recommended Storage

-30°C to +70°C

CO2 Measurement

Sensing Method

Non-dispersive infrared (NDIR) absorption

Patented Gold-plated optics, GSS Solid-state source and detector

Sample Method

Diffusion

Measurement Range

0-2000ppm, 0-5000ppm, 0-1%

Accuracy

±50 ppm +/- 3% of reading

Non Linearity

< 1% of FS

Calibration

Automatic Calibration

Pressure Dependence

0.13% of reading per mm Hg in normal atmospheric conditions

Operating Pressure Range

950 mbar to 1100 bar

Response Time

2 minutes

Electrical/ Mechanical

Power Input

3.25 to 5.25V. (3.3V recommended).

Peak Current 150mA3.

Average Current 6mA3.

Power Consumption

20 mW
Dimensions and Wiring Connections

The total height is 15mm at the highest point.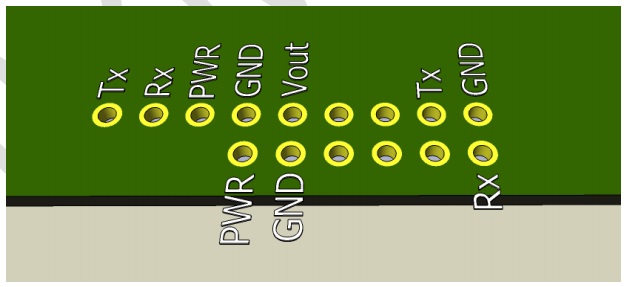 Pin

Description

Comment

PWR

Vsupply

3V3 to 5.25V

GND

0V

Only one GND pin should be connected.

Rx

Sensor receive line (UART)

5V Tolerant

Tx

Sensor transmit line (UART)

Voh = Vsupply

Vout

Voltage Output

Vout proportional to CO2 concentration. Full scale =
Vsupply

If you cannot find what you want, you can entrust ISweek to source for you. Just click:
Sourcing Service