Short Probe Zirconium Dioxide Oxygen Sensor - O2S-T2 / O2S-FR-T2
Zirconium dioxide technology
Small sensing element
Low weight
Works at high oxygen presssures
Compact in size
Long life, non-depleting technology
No need for temperature stabilisation
Linear output signal
Quantity:

-

+
Product Specification
Zirconia O2 Sensors

Probe Series - Short Housing
The Probe Range of zirconium dioxide oxygen sensors are available in three lengths. Suitable for aggressive and polluted applications such as boiler exhausts. Longer probes are an ideal solution for thicker walled, insulated flue pipes.
FEATURES
• Zirconium dioxide (ZrO2) sensing elements
• Long life, non-depleting technology
• Integral heating element
• High accuracy
• Requires an external interface board to operate
BENEFITS
• No reference gas required
• No need for temperature stabilisation
• Compact enclosure
TECHNICAL SPECIFICATIONS
Heater voltage
Operating (standard response)
Standby
Operating (fast response)
Standby

4V DC ± 0.1V DC (1.7A)
1.65V DC (0.7A)
4.35V DC ± 0.1V DC (1.85A)
2V DC (0.85A)

Pump impedance at 700°C

< 6kΩ

Permissible gas temperature

-100°C to +250°C

Gas flow rate

0 ~ 10 m/s

Repetitive permissible acceleration

5g

Incidental permissible acceleration

30g

OUTPUT VALUES
Oxygen pressure range

2mbar ~ 3bar max

Accuracy

5mbar max

Internal operational temperature

700°C


Response time (10 - 90% step)
Standard response sensor
Fast response sensor

< 15s
< 4s

Warm up time (prior to sensor operation)

60s

Warm up time (from standby)

20s

Output stabilisation time

~ 180s

OUTLINE DRAWING

ORDER INFORMATION
Generate your specific part number using the convention shown below. Use only those letters and numbers that correspond to the sensor options you require — omit those you do not.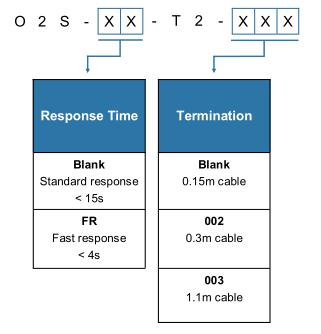 If you cannot find what you want, you can entrust ISweek to source for you. Just click:
Sourcing Service