Compact CO Sensor - TGS5141



Target gas Carbon monoxide
Typical detection range 0 ~ 10,000 ppm
Output current in CO 1.4~ 3.2 nA/ppm
Quantity:

-

+
Product Specification
TGS5141 is a UL recognized component in accordance with the requirements of UL 2034.
Mounting options for TGS5141
No lead pin is connected to the standard TGS5141 sensor. A socket is necessary for electrical contact between the sensor and a circuit board.
Sockets are to be chosen and sourced by customers. FIGARO does not suggest specific sockets to use.
Lead pin configurations in horizontal and/or vertical positions are under consideration.
Specifications and Operating Conditions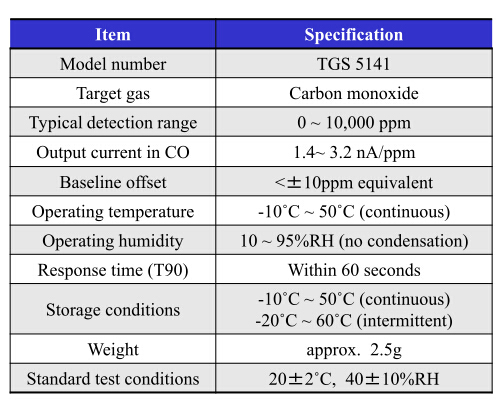 If you cannot find what you want, you can entrust ISweek to source for you. Just click:
Sourcing Service