Conductivity Standard Solutions - TDS/TDSK/TDSNa
Accuracy +/- 1% of listed value @ 25 Deg C
Volume 1 US quart(946mL)
MSDS Supplied with standards
NIST Tracebility Certificate Available for an additional cost.
Quantity:

-

+
Product Specification
Conductivity Standard Solutions
Item No.: TDS/TDSK/TDSNa
Sensorex offers a wide range of Mixed Salt and Single Salt Conductivity Standards. Our standards are prepared to the National Institute of Standards and Technology (NIST) primary solutions standards. Both Mixed Salts and Single Salt solutions are available. NIST certificates are available for a nominal charge.
Conductivity solutions are supplied in quart bottles (946 ml) and are ready for immediate use. Both the TDS and the conductivity values are listed on the label. Shelf life is guaranteed for a year, and each solution is supplied with an MSDS sheet. Custom standards, such as special conductivity values or special packaging requirements, are available on request.
Specifications
| | |
| --- | --- |
| Accuracy | +/- 1% of listed value @ 25 Deg C |
| Volume | 1 US quart(946mL) |
| MSDS | Supplied with standards |
| NIST Tracebility | Certificate Available for an additional cost. |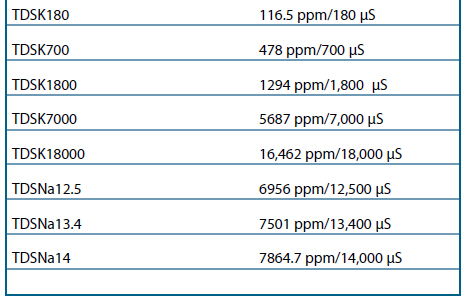 If you cannot find what you want, you can entrust ISweek to source for you. Just click:
Sourcing Service