Digital Multimeter - MS8238/MS8238A
• Display 2000 counts
• Diode Open Voltage 3.0V
• Continuity Buzzer <50Ω
• Data Hold
• Low Battery Display
• Battery Test 1.5V/9V/12V
• Power Supply: 1 x 9V 6F22 Battery
• Certificate: CE / ETL / RoHS
• Safety Rating: CAT III 600V
Quantity:

-

+
Product Specification
MS8238 Digital Multimeter

MS8238A Digital Multimeter Overview
The MS8238 is a small, safe and reliable 3 1/2 digit handheld multimeter. This meter can measure AC/DC voltage, DC current, resistance, diode, continuity and battery test. This tool is ideal for professionals and hobbyists alike.

MS8238A Digital Multimeter Features
• Display 2000 counts
• Diode Open Voltage 3.0V
• Continuity Buzzer <50Ω
• Data Hold
• Low Battery Display
• Battery Test 1.5V/9V/12V

MS8238A Digital Multimeter General Specifications
• Power Supply: 1 x 9V 6F22 Battery
• Product Size: 148mm x 73.5mm x 50mm / 5.8" x 2.9" x 1.96"
• Product Weight: 232g/0.51lb
• Certificate: CE / ETL / RoHS
• Safety Rating: CAT III 600V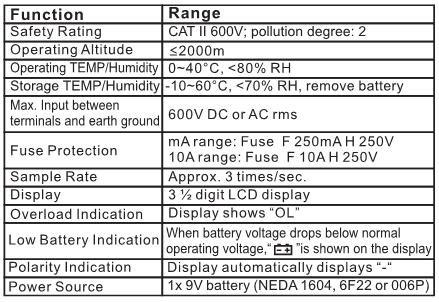 ---
MS8238A Digital Multimeter

MS8238A Digital Multimeter Overview
The MS8238A is a small, safe and reliable 3 1/2 digit handheld multimeter. This meter can measure AC/DC voltage, AC/DC current, resistance, diode, continuity, battery test and non-contact voltage tests. This tool is ideal for professionals and hobbyists alike.
MS8238A Digital Multimeter Features
• Display 2000 counts
• Diode Open Voltage 3.0V
• Continuity Buzzer <50Ω
• Data Hold
• Low Battery Display
• Battery Test 1.5V/9V/12V
• Non-contact voltage detection
MS8238A Digital Multimeter General Specifications
• Power Supply: 1x9V 6F22 Battery
• Product Size: 148mm x 73.5mm x 50mm / 5.8" x 2.9" x 1.96"
• Product Weight: 232g/0.51lb
• Certificate: CE / ETL / RoHS
• Safety Rating: CAT III 600V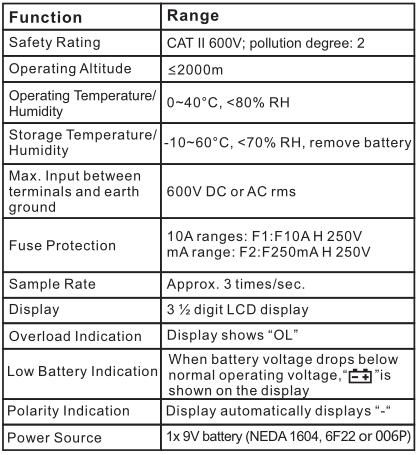 If you cannot find what you want, you can entrust ISweek to source for you. Just click:
Sourcing Service