High Accuracy RH/T Sensor - HTU31V
• High Reliability and Robustness
• Fast Recovery after Saturation
• Fully Compatible with Reflow Process
• Fully Interchangeable without Calibration
• Serial Individual Marking for Traceability
• Lead Free
• Low Power Consumption
Quantity:

-

+
Product Specification
General Description:
The HTU31 is one of the smallest and most accurate humidity sensors on the market. TE Connectivity precision engineering and 20+ years of experience in humidity and temperature combination sensors, enabled this new product with fast response time, precision measurement, low hysteresis, robustness to reflow assembly process and sustained performance even when exposed to extreme temperature [-40°to125℃]and humidity [0%RH to 100%RH] environments.
HTU31 humidity & temperature sensor includes both digital (D) and analog (V) versions and combines multiple functions with an application-friendly operating supply voltage range from 3V to 5.5V.
HTU31 sensor is available in small and large volumes to meet the everchanging demands of our customers.
Features:
• High Reliability and Robustness
• Fast Recovery after Saturation
• Fully Compatible with Reflow Process
• Fully Interchangeable without Calibration
• Serial Individual Marking for Traceability
• Lead Free
• Low Power Consumption
Applications:
• Home Appliance
• Medical
• Printers
• Humidifiers
• Automotive
• Meteorology
• Environmental Monitoring & Trackers
Performance Specifications:
Relative Humidity Specifications
Vdd = 5V 25℃
Characteristics

Condition

Value

Units

Notes /Conditions

Humidity Operating Range

Max1

0 to 100

%RH

Relative Humidity Accuracy

Typical

±2

%RH

Figure 1 Humidity

Sensor Rating @25℃

Resolution

Typical

0.01

%RH

Table 11 Humidity and Temperature

Conversion Parameters

Hysteresis

@25℃

±0.7

%RH

Response Time2

τ63%

5

s

Recovery Time after Condensation3

Typical

10

s

Long Term Drift4

Typical

<0.25

%RH / year
Table 1 Humidity Specifications
Temperature Specifications
Vdd = 5V 25℃
Characteristics

Condition

Value

Units

Notes /Conditions

Humidity Operating Range

-40 to 125

℃

Temperature Accuracy

Typical

±0.2

℃

Figure 2 Temperature

Sensor Rating

Resolution

Typical

0.016

℃

Table 11 Humidity and Temperature

Conversion Parameters

Response Time2

τ63%

10

s

Long Term Drift

Typical

0.04

℃ / year
Table 2 Temperature Specifications
1 Cf. Figure 3 Humidity and Temperature Operating Range
2 With 1m.s-1 air flow
3 Measured according to AFNOR standard NFX 15-113, with 3 m.s-1 air flow
4 Typical application in regular environmental variation within optimum measurement range
Humidity Sensor Rating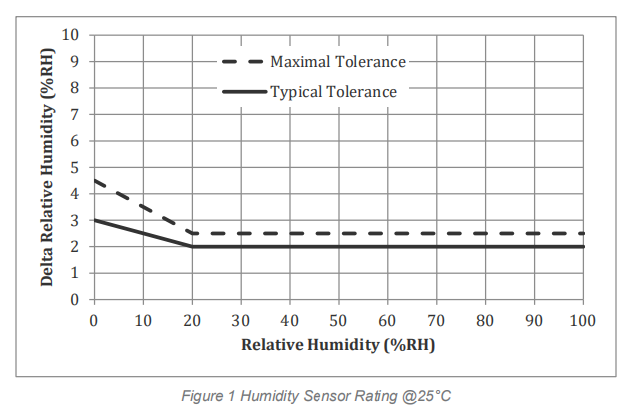 Temperature Sensor Rating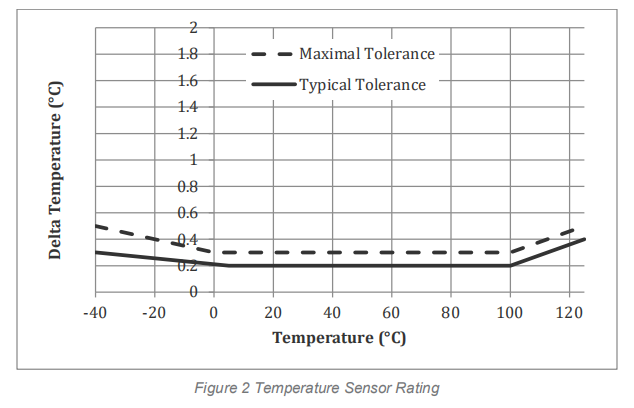 If you cannot find what you want, you can entrust ISweek to source for you. Just click:
Sourcing Service