Honeywell Air Flow Sensors - AWM3100V
● Laser trimmed for improved sensor interchangeability
● Flow sensing up to 1.0 SLPM
● Low differential pressure sensing
● Flow/Pressure Range: 200 sccm
● Response Time: 1 ms typ., 3 ms max
● Supply Voltage: 8.0 Vdc min., 10.0 Vdc typ., 15.0Vdc max.
● Power Consumption: 50 mW typ., 60 mW max.
Quantity:

-

+
Product Specification
Honeywell Air flow Sensors - AWM3100V Description
Like the AWM2000 Series, the dual Wheatstone bridges control airflow measurement. The AWM3000 Series is amplified; therefore, it can be used to increase the gain and to introduce voltage offsets to the sensor output. The heater control circuit and the sensing bridge supply circuit are on board the package.
Honeywell Air flow Sensors - AWM3100V Features
● Laser trimmed for improved sensor interchangeability
● Flow sensing up to 1.0 SLPM
● Low differential pressure sensing
Honeywell Air flow Sensors - AWM3100V Potential Applications
● Damper control for heating, ventilation, and air conditioning systems
● Gas analyzers
● Low vacuum control
● Process control
● Medical respirators and ventilators
● Oxygen concentrators
● Leak detection equipment
● Vent hoods
● Anesthesia control
● Gas metering
● Gas chromatography
Honeywell Air flow Sensors - AWM3100V Product Specifications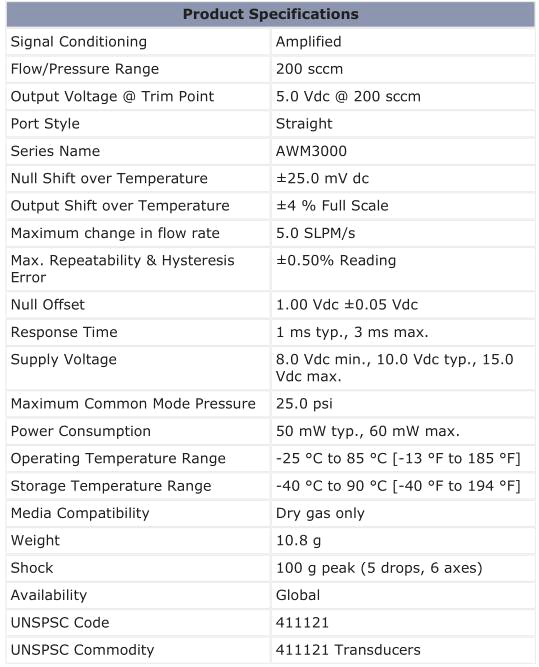 If you cannot find what you want, you can entrust ISweek to source for you. Just click:
Sourcing Service