Honeywell HIH-4602-L Series Humidity Sensors - HIH-4602-L
Near linear voltage output vs %RH
Laser-trimmed interchangeability
Enhanced accuracy, fast response
Chemically resistant
Stable, low drift performance
Built-in static protection
TO-5 can
Quantity:

-

+
Product Specification
DESCRIPTION
HIH-4602-L Series Relative Humidity (RH) sensors are designed to deliver RH sensing in a rugged, low-cost slotted TO-5 can.
The laser-trimmed, thermoset polymer capacitive sensing elements have on-chip integrated signal conditioning, helping to reduce product development times.
A typical current draw of only 200 μA allows use in batterypowered systems.


HIH-4602-L-CP sensors include a calibration and data printout to allow individually matched downstream electronics and ±3.5 %RH total accuracy.
FEATURES
• Near linear voltage output vs %RH
• Laser-trimmed interchangeability
• Enhanced accuracy, fast response
• Chemically resistant
• Stable, low drift performance
• Built-in static protection
• TO-5 can


POTENTIAL APPLICATIONS
• Refrigeration
• Drying
• Meteorology
• Battery-powered systems
• OEM (Original Equipment Manufacturer) assemblies
Performance Specifications (At 5 Vdc supply and 25 ºC [77 ºF] unless otherwise noted.)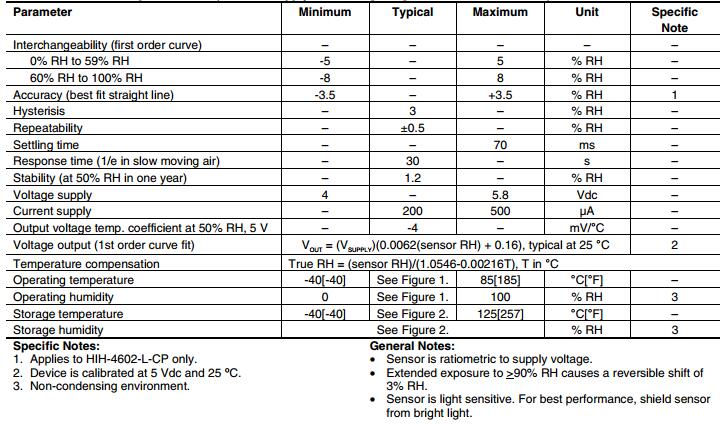 If you cannot find what you want, you can entrust ISweek to source for you. Just click:
Sourcing Service