Humidity and Temperature Module - EE99-1
• High RH accuracy
• Wide T measuring range from -50℃ (-94°F)up to 180℃ (356°F)
• Analogue 4 - 20 mA (3-wire) output for RH
• T passive output with 3-wire connection——Pt100 / Pt1000, DIN A (DIN EN 60751)
Quantity:

-

+
Product Specification
The EE99-1 humidity and temperature module is optimised to meet the specific requirements of relative humidity (RH) and temperature (T) monitoring in climate chambers.
Outstanding Measurement Performance
The EE99-1 employs high-end E+E humidity sensing elements manufactured in state-of-the-art thin film technology, which are the prerequisite for outstanding measurement accuracy.
With a working range from -50℃ (-94°F) up to 180℃ (356°F) and various probe and cable lengths the EE99-1 module is suitable for a wide range of applications.
Long-Term Stability
The E+E proprietary coating protects the sensing elements against corrosive and electrically conductive pollution, which leads to excellent long-term stability even in harsh environment.
Outputs and Installation
The measured RH data is available on an analogue current output (4 - 20 mA/3-wire). The passive T values can be read out using the 3-wire connection. The high-quality probe cable up to 10 m facilitates mounting of the EE99-1. Push buttons on the PCB allow for adjustment in the field.
Features
EE99-1 Performance and Outputs
• High RH accuracy
• Wide T measuring range from -50℃ (-94°F)up to 180℃ (356°F)
• Analogue 4 - 20 mA (3-wire) output for RH
• T passive output with 3-wire connection——Pt100 / Pt1000, DIN A (DIN EN 60751)
Remote Probe and PCB
• Various probe and cable lengths
• RH adjustment via push buttons on the PCB
• Easy installation with plug-in screw terminal block
Dimensions Values in mm (inch)
Applications
• environmental chambers
• climate chambers
• test chambers
• dryers and humidifiers
• incubators
Technical Data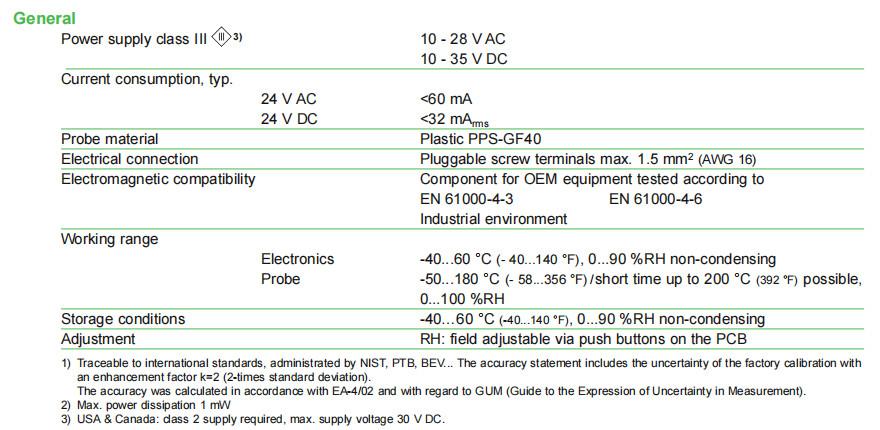 If you cannot find what you want, you can entrust ISweek to source for you. Just click:
Sourcing Service