I2CXL-MaxSonar-EZ Series Industrial Indoor Ultrasonic Sensors MB1202, MB1212 - MB1222, MB1232, MB1242
• I2C bus communication allows rapid control of multiple sensors with only two wires
• High acoustic power output
• Calibrated beam patterns
• Continuously variable gain
• 3V to 5.5V supply with very low average current draw
• Readings can occur up to every 25mS (40Hz rate) 4 for up-close objects. 15Hz rate for full range.
• Ultrasonic signal frequency of 42KHz
• Operational temperature from 0°C to +65°C (32°F to +149°F)
Quantity:

-

+
Product Specification
I2CXL-MaxSonar-EZ Series
High Performance Sonar Rangefinder
MB1202, MB1212, MB1222, MB1232, MB1242

I2CXL-MaxSonar-EZ Series Ultrasonic Sensors Product Description
The I2CXL-MaxSonar-EZ series offers industrial ultrasonic sensors with an easy to use I2C interface. These sensors have a high acoustic power output along with real-time auto calibration for changing conditions (voltage and acoustic or electric noise) that ensure users receive the most reliable (in air) ranging data for every reading taken. The low power 3V - 5.5V operation provides very short to long-range detection and ranging, in a compact form factor. The I2CXL-MaxSonar-EZ detect objects from 0-cm to 765-cm (25.1 feet) and provide sonar range information from 20-cm or 25-cm out to 765-cm with 1-cm resolution. Objects from 0-cm to minimum distance typically range as minimum
distance.

I2CXL-MaxSonar-EZ Series Ultrasonic Sensors Features
• I2C bus communication allows rapid control of multiple sensors with only two wires
• High acoustic power output
• Real-time auto calibration and noise rejection for every ranging cycle
• Calibrated beam patterns
• Continuously variable gain
• Object presence information as close as 1-mm from the sensor. Range information starting at min. distance.
• 3V to 5.5V supply with very low average current draw
• Readings can occur up to every 25mS (40Hz rate) 4 for up-close objects. 15Hz rate for full range.
• Triggered operation provides a new range reading as desired
• Ultrasonic signal frequency of 42KHz
• Status pin available to determine sensor state
• Power-up address reset pin available
• Physical dimensions match other XL-MaxSonar-EZ products
• Operational temperature from 0°C to +65°C (32°F to +149°F)

I2CXL-MaxSonar-EZ Series Ultrasonic Sensors Low Power Requirement
• Wide, low supply voltage requirements eases battery powered design
• Low current draw reduces current drain for battery operation
• Fast first reading after power-up eases battery requirements

I2CXL-MaxSonar-EZ Series Ultrasonic Sensors Benefits
• Acoustic and electric noise resistance
• Reliable and stable range data
• Low cost
• Quality controlled beam characteristics
• Very low power rangefinder, excellent for multiple sensor or battery based systems
• Ranging is triggered externally
• Fast measurement cycle
• No power up calibration required
• Perfect for when objects may be directly in front of the sensor during power up
• Easy mounting

I2CXL-MaxSonar-EZ Series Ultrasonic Sensors Applications and Uses
• Multi-sensor arrays
• Proximity zone detection
• People detection
• Robot ranging sensor
• Autonomous navigation
• Educational and hobby robotics
• Environments with acoustic and electrical noise
• Distance measuring
• Long range object detection
• Security systems
• Motion detection
• Landing flying objects
• Collision avoidance
• Bin level measurement

I2CXL-MaxSonar-EZ Series Ultrasonic Sensors Part Numbers
All part numbers are a combination of a six-character base followed by a dash and a three-digit product code. Please review the following table for more information on the three-digit product code.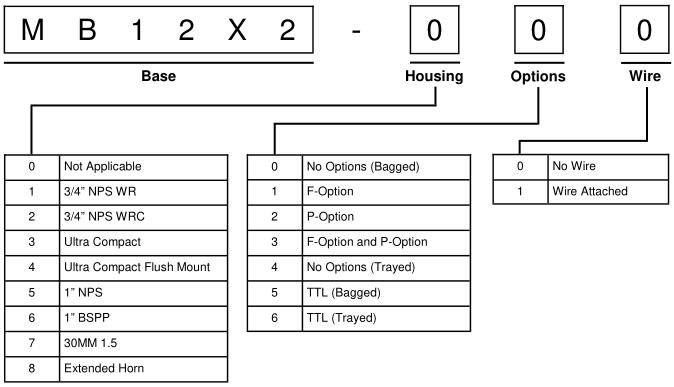 The following table displays all of the active and valid part numbers for this product.


If you cannot find what you want, you can entrust ISweek to source for you. Just click:
Sourcing Service