Infrared Carbon Dioxide Sensor 0~5000ppm 0~5% vol - Cirius2
• Sensing ranges: 0-5000ppm CO2 to 0-5% volume CO2
• Power consumption: 150mW typical
• Response time (T90): < 30s
• Relative humidity:​ 0 - 95% RH non-condensing​
• Operating temperature range:​ 30°C to +60°C​
• Operating pressure range:​ ​700 - 1300 hPa​
• Supply voltage range:​ 2.8V - 5.5V​
Quantity:

-

+
Product Specification
Cirius2 Infrared Carbon Dioxide Sensor Description and Operation
The Cirius range of sensors use the non-dispersive infrared method to detect the presence of gases. The sensors contain an infrared radiation source, a dual element infrared detector and a unique optical waveguide into which gas diffuses. The dual element infrared detector responds to changes in incident radiation and to operate the sensor the infrared source should be pulsed with a duty cycle of 50% at a frequency typically between 2Hz and 4Hz. The sensor produces outputs for active wavelengths, which are modified by the presence of target gas, and for reference wavelengths, which are not modified by the presence of target gas. These outputs consist of a small AC signal in sympathy with the source pulse that is superimposed on a DC voltage pedestal. The sensor also provides a measure of internal temperature via an embedded thermistor. The sensor requires a voltage supply to operate the infrared detector and the connections to the sensor follow the industry standard 7 pin format.

To operate the sensor it must be connected to a suitable circuit that provides the source drive and extracts the small AC signals from the DC voltage pedestal. The circuit must amplify the small AC signals, extract a value from them and treat the results to provide a linear output related to gas concentration. The temperature output from the sensor should be used to apply temperature compensation in order to achieve the full performance specification.

Cirius2 Infrared Carbon Dioxide Sensor Features
• Temperature compensated detectors
• Sensing ranges: 0-5000ppm Carbon Dioxide to 0-5% volume Carbon Dioxide
• All metal construction
• Small internal volume
• 'Light locked': not affected by external illumination
• Low power
• Active and Reference signal outputs
• Embedded thermistor temperature sensor output
• Wide operating temperature range
• Fast response
• Immunity from 'poisoning'
• Fail safe operation
• Electrically isolated housing

Cirius2 Infrared Carbon Dioxide Sensor Performance
Unless otherwise stated all data was taken using: Supply voltage of 5.0V. Lamp modulation of 0V - 5.0V, 50% duty cycle, 3.0Hz. Ambient temperature (between 20°C and 25°C). Ambient pressure (between 995 hPa and 1020 hPa). Gases diluted in nitrogen. Gas Flowrate 1litre/min across sensor face.

Power consumption:

150mW typical

Typical active signal in nitrogen:

4.4mV RMS (12.5mV p-p sinewave equivalent)

Typical reference signal in nitrogen:

3.5mV RMS (10mV p-p sinewave equivalent)

Temperature output:

3kΩ ± 5% NTC thermistor internally connected to 0V. Beta value 3450K

Typical % drop in active signal:
At 5% volume carbon dioxide


35%

Response time (T90):

< 30s

Warm up time:
To operation
To specification


< 30s
< 30 minutes

Nominal ranges:

0 - 2000ppm carbon dioxide
0 - 5000ppm carbon dioxide
0 - 5% volume carbon dioxide

Minimum resolution:
At zero
At range


< 0.5% of range
<2% of range

MTBF:

> 5 years

Weight:

17.6 grams

Vibration:

Complies with EN61779-1

Relative humidity:

0 - 95% RH non-condensing

Operating temperature range:

30°C to +60°C

Operating pressure range:

700 - 1300 hPa

Storage temperature range:

-40°C to +80°C

Supply voltage range:

2.8V - 5.5V

Lamp drive voltage range:

2.8V - 5.0V (50% duty cycle)

Matched Transmitter board for Cirius2
- OEM 4-20mA Transmitter for NDIR Gas Sensors (Methane/Carbon dioxide)
Description:
The Cirius X OEM 4-20mA transmitter is an extremely flexible transmitter for NDIR gas sensors providing a robust linear 4-20mA output in response to signals from standard NDIR gas sensors. All sensor driving, signal extraction and linearisation is performed on-board with calibration and configuration accessed by a menu driven sequence using 3 pushbuttons or via the RS232 port. The 2-line LCD display shows the gas concentration and units under normal operation, fault diagnostics under fault conditions and interactive text under pushbutton operation for calibration. The pushbuttons are disabled if the display is removed, enabling tamper-proof running. Sensor connections to the Cirius X are made by 3-way and 4-way crimp EH connectors, segregating the sensor supply from the signal lines. Connections for the input power and 4-20mA source output are via screw terminals and an earth spade terminal is provided along with an earth bonding pad for ease of earth connections.
Features:
1) Wide power supply voltage range
2) Robust linear 4-20mA output stage
3) Fully configurable for a wide range of NDIR gas sensors
4) Comprehensive RS232 communications
5) Extensive fault monitoring
6) Input power and output signal polarity protection
7) Detachable 2 line LCD display with switchable backlight
8) Menu driven pushbutton calibration
9) Small size
10) Designed for fixed head systems
11) Optional plug in Hall Effect switch panel for "through the glass" calibration
12) Wide operating temperature range
13) Earth contact pad and earth spade terminal
14) Designed in accordance with the SIL specification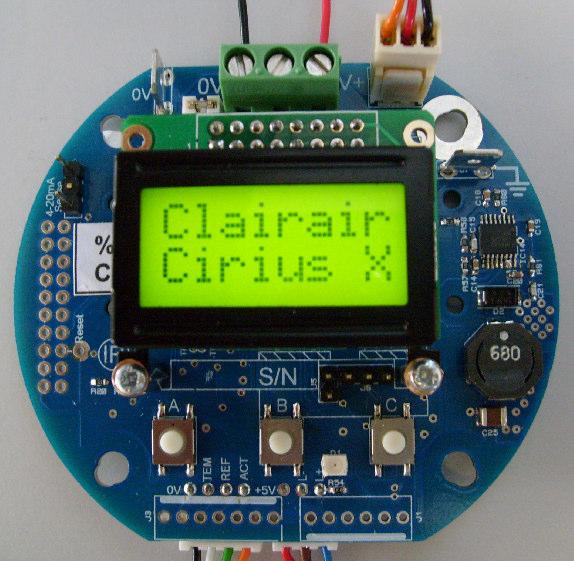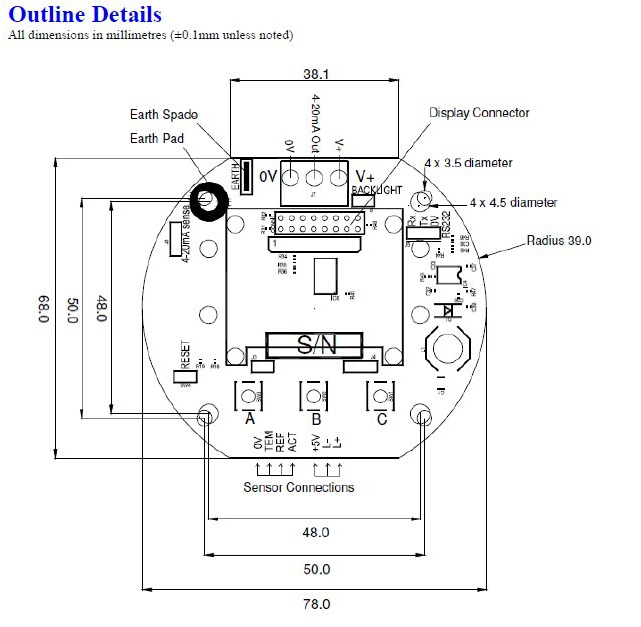 If you cannot find what you want, you can entrust ISweek to source for you. Just click:
Sourcing Service