Low Power NDIR CH4 sensor - FlameIR-ME1
• Solid-state NDIR LED optical technology
• 0.01% typical measurement accuracy
• Ultra-low power, typically <5mW average
• Altitude pressure compensation
• Analogue or digital CH4 measurements
Quantity:

-

+
Product Specification
Description
The FlameIR-ME1 is a low power NDIR CH4 sensor using state-of-the-art solid-state LED optical technology.
The FlameIR-ME1's low power consumption is compatible with battery-powered operation, allowing the sensor to be used in a wide variety of applications including wirelessly connected equipment.
The FlameIR-ME1 operation is configurable depending on user requirements. On power-up, the FlameIR®-ME1 automatically starts taking measurements and streamed across a choice of digital interfaces, or read from the analogue output.Measurements can be streamed or output on request.
The FlameIR-ME1 also features a built-in zero-tracking function to maintain CH4 measurement accuracy over the lifetime of the product. The sensor can be zeroed at power-on, and periodically for applications that are permanently powered.
Limits can be set on the amount of zero movement allowed, with the status flag used to indicate large changes from the initial calibration setting.
Specification
• Solid-state NDIR LED optical technology
• 0.01% typical measurement accuracy
• Ultra-low power, typically <5mW average
• Altitude pressure compensation
• Analogue or digital CH4 measurements
• I²C or UART digital interface
• Built-in zero tracking and auto-calibration
• Real-time temperature correction
Applications
• Industrial Health and Safety
• Pollution and Emissions Monitoring
• Mining
FlameIR-ME1 Package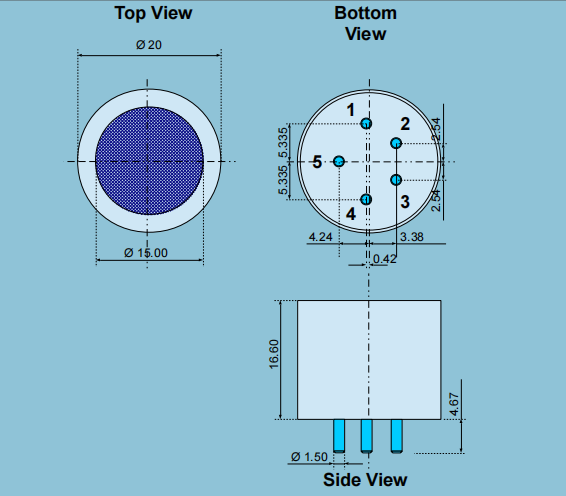 If you cannot find what you want, you can entrust ISweek to source for you. Just click:
Sourcing Service