Mass Flow Meter - AFM3000
• Low pressure drop
• Flow range: +/- 200 slm (bidirectional)
• Accuracy 1.5% m.v. (typical)
• Very fast update time
• Fully calibrated & temperature compe-nsated
• Low zero drift
Quantity:

-

+
Product Specification
1.Product Summary
The AFM3000 medical flow sensor is Aosong's digital flow meter designed specifically for ventilator applications. It measures the flow rate of air, oxygen andother non-aggressive gases with superb accuracy. A special design of the mass flow sensor channel results in the very low pressure drop through the flow body of the sensor making it extremely suitable for very demanding applications, such as medical ventilation and respiratory applications.
The AFM3000 operates from a 5 Voltsupply voltage and features a digital I2C interface. The measurement results are internally linearized and temperature compensated.
The outstanding performance of this mass flow sensor is based on Aosong's sensor technology,which combines a thermal sensor chip and a high-performance integrated 24-bit AD acquisition CMOS microprocessor. The flow rate of the gas is measured by a thermal sensor element which assures very fast signal processing time and bidirectional measurement with best-in-class accuracy.
2. Features
• Low pressure drop
• Flow range: +/- 200 slm (bidirectional)
• Accuracy 1.5% m.v. (typical)
• Very fast update time
• Fully calibrated & temperature compe-nsated
• Low zero drift
3. Applications
Medical、Process automation、Burner control、Fuel cell control、Spectroscopy、Environment monitoring、Laboratory
4.OEM industry customization and solutions
Our company is committed to research and development of various sensors, with professional R&D laboratories and equipment, supporting a variety of simulation environment experimental conditions, to create high-quality product production and inspection process.The AFM3000 is one of the chips independently developed and manufactured by our company. The flow range and independent flow channel structure can be customized according to the application site and customer needs. Aosong professionally provide customers with complete application solutions.
5. Sensor performance
Table 1:AFM3000 performance table of accuracy conditions1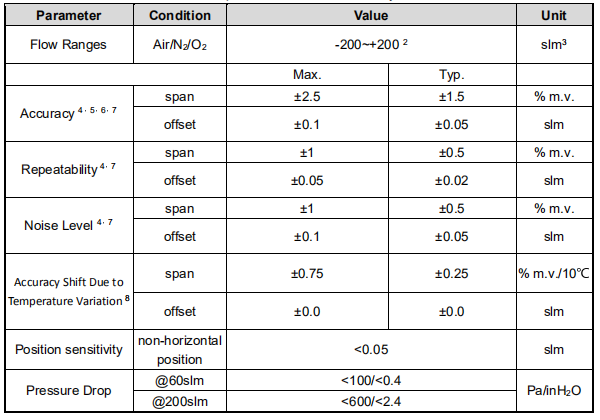 Table2:Media compatibility and materials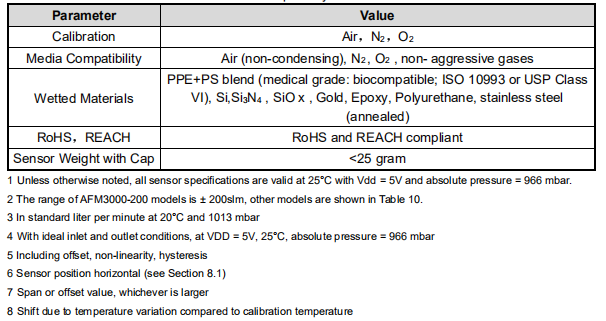 6.Sensor electrical characteristics
Electrical characteristics,such as sleep power consumption, measurement power consumption, etc., all depend on the power supply.The table 3 details the electrical characteristics of AFM3000.If not marked, it means that the power supply voltage is 5V.
Table3: AFM3000 electrical characteristics parameter table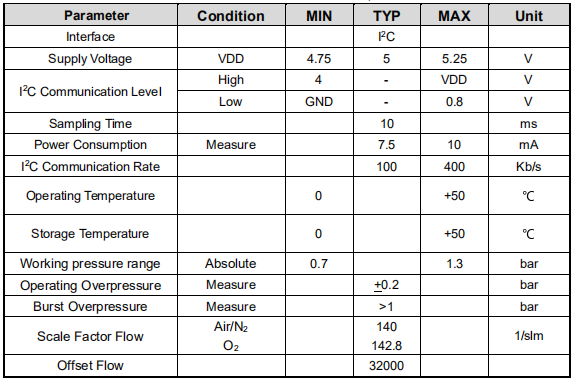 If you cannot find what you want, you can entrust ISweek to source for you. Just click:
Sourcing Service