Miniature Hall-effect Linear Open-Loop Current Sensor - CSLS Series
● ac or dc current sensing
● Linear ratiometric output
● Fast response time
● Compact size
● Accurate, low-cost sensing
● Minimum energy dissipation
● Built-in temperature compensation promotes reliable operation
● Operating temperature range -25 °C to 100 °C [-13 ℉ to 212 ℉]
● RoHs compliant (lead-free).
Quantity:

-

+
Product Specification
Miniature Open-Loop Current Sensors - CSLS Series
Description
Honeywell's CSLS Series miniature, open-loop current sensors incorporate our SS490 Series miniature ratiometric linear Hall- effect sensor (MRL TM ). The sensing element is encapsulated in a printed circuit board-mountable plastic package.
The combination of sensor, flux collector and housing comprises the current sensor assembly. These sensors are ratiometric.
Features
● Open-loop, through-hole design
● Output voltage isolation from input
● ac or dc current sensing
● Linear ratiometric output
● Current sinking or sourcing output for interfacing flexibility
● Fast response time
● Compact size
● Accurate, low-cost sensing
● Minimum energy dissipation
● Maximum current limited only by conductor size
● Built-in temperature compensation promotes reliable operation
● Operating temperature range -25 °C to 100 °C [-13 ℉ to 212 ℉]
● RoHs compliant (lead-free)
Potential Applications
● Motor control in appliances, HVAC and consumer tools
● Current monitoring of electronic circuits
● Overcurrent protection
● Ground fault detectors
● Robotics
● Industrial process control
● UPS and telecommunication power supplies
● Welding current monitoring
● Battery management systems in mobile equipment
● Watt meters
● Variable speed drives
Specifications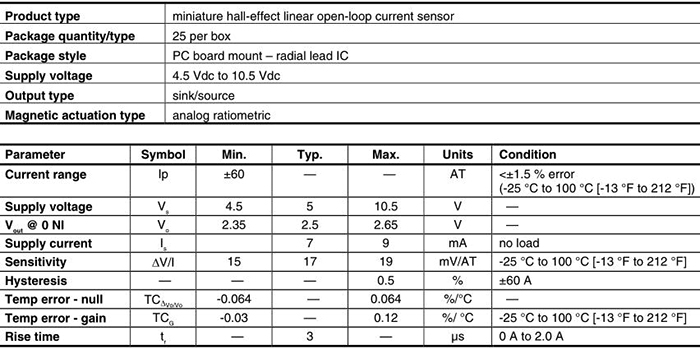 If you cannot find what you want, you can entrust ISweek to source for you. Just click:
Sourcing Service