NDIR Infrared CO2 Gas Sensor - MH-410D
• High sensitivity
• Standard output and signal output
• Miniature figure
• Fast response and resume
• Temperature compensation
• Good stability
• Long life
Quantity:

-

+
Product Specification
1. NDIR CO2 Sensor MH-410D Introduction:
MH-410D infrared gas sensor is a miniature universal intelligent sensor, which adopts NDIR theory to detect concentration of CO2 in air and has good selectivity, stable performance, long life, also is independent of Oxygen. The inside temperature sensor could be used for temperature compensation. This miniature infrared gas sensor is developed by the tight integration of mature infrared absorbing gas detection technology, micro machine workout and superior circuit design.
It is widely used in various occasions with CO2 gas.
2. NDIR CO2 Sensor MH-410D Features:
• High sensitivity
• Standard output and signal output
• Miniature figure
• Fast response and resume
• Temperature compensation
• Good stability
• Long life
• Anti-vapor interference
• Instantly convert catalytic theory meter into infrared detection meter
3. NDIR CO2 Sensor MH-410D Main technical parameters:
Working voltage

3.5~5.5V dc

Working current

75~85mA

Detection range

0~5%vol(0~100%vol optional)

Resolution

50ppm

Warm-up time

90s

Response time

T90<30s

Repeatability

Zero < ±100ppm

SPAN <±500ppm

Long-term drift

Zero < ±300ppm/month

SPAN < ±500ppm/month

Temperature range

-20°C ~50°C

Humidity range

0~95%RH

Lifetime

>5 years

Dimension

20*16.6

Weight

20g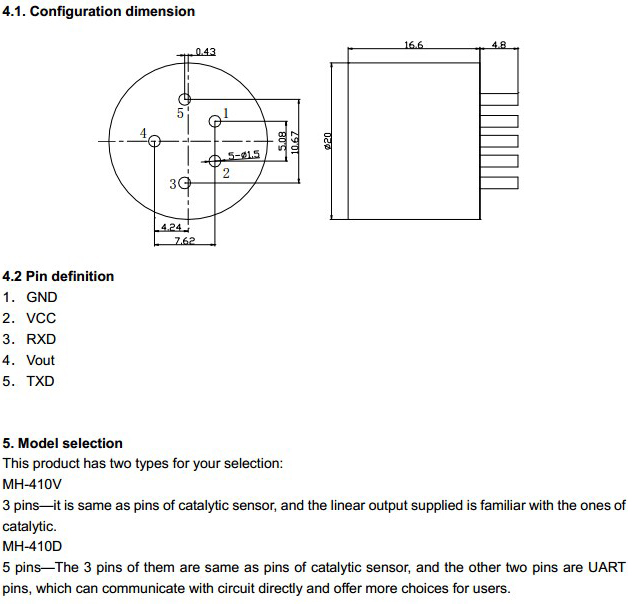 If you cannot find what you want, you can entrust ISweek to source for you. Just click:
Sourcing Service