Oxygen Transmitter - SenzTx
·Gas generation (oxygen / nitrogen)
·Additive manufacturing
·Glove box purge and leak detection
·Industrial gas applications
Quantity:

-

+
Product Specification
Overview:
The SenzTx is a compact and robust O2 transmitter that utilises zirconia or electrochemical technology to give a reliable measurement of oxygen concentration. The zirconia sensor offers fast response time and a long service life with virtually no drift, whilst the electrochemical sensor allows measurement in background gases containing hydrocarbons.
The minimum output range of 0 to 10ppm is ideal for nitrogen generation or glove box monitoring. The SenzTx transmitter can also be supplied with measuring ranges up to 0 to 96% O2 for oxygen concentrators.
The flexibility is further enhanced by process connection multiple output options.
Features:
» Zirconia or electrochemical sensor technology options
» Measurement range: 0 to 10ppm up to 0 to 96% O2
» RS 485 modbus protocol
» 24VDC power supply
» KF40 Flange, Flowthrough and Flow Orifice process connection options available
» Combined Sensor & Electronics allows for ease of integration.
» Lightweight and robust (< 0.3Kgs)
Applications:
» Gas generation (oxygen / nitrogen)
» Additive manufacturing
» Glove box purge and leak detection
» Industrial gas applications
Technical Specifications:
Performance

Transmitter Model

SenzTx

Measurement technology

Zirconia (ZR)

Electrochemical (EC)

Measurement range*

0 to 1000ppm / 0 to 1% /

0 to 25% / 0 to 96%

0 to 1000ppm / 0 to 25%

Output resolution ( for %)

0.01%

Output resolution (for ppm)

1ppm

Accuracy

+/-2% of reading (or 2ppm O2) @ calibrated temperature and pressure

Response time (T90)

<10 seconds @ 25˚C (within selected range)

LDL (Sensitivity)

0.01% (when measuring %) / 1ppm (when measuring ppm)

Temperature range

-20℃ to +50℃

0℃ to +45℃

Pressure range

900 to 1100 mBarabs

Linearity

+/- 2% of reading

Life expectation

3-5 years

1 years

Humidity

0-95% RH non-condensing

Shelf life

No shelf life

Up to 3 Months

Electrical Input / Output

Power supply

24VDC

Power consumption

Maximum 50mA @ 24VDC

Signal output

4-20mA

Digital communications

RS485 Modbus protocol.

Multiple devices can be connected in a linear series

Electrical interface

M12 x 1.5 connection

Cable length

1 metre / 3 metre / 10 metre

Mechanical Specifications

Dimensions

47mm Diameter x 120mm to 140mm depending on connection type

Weight

0.260kg

Wetted materials

Aluminium, PTFE, Viton

Process connection

Flowthrough / Flowthrough + Orifice / KF40 Flange

Ingress protection

IP66

Housing material

Anodised aluminium

Certification

Complies with EMC Directive 2004 / 108 / EC. UL/ETL Certification Number: UL-61010-1
* Outputs can be factory set to other ranges.Please see order code sheet for details.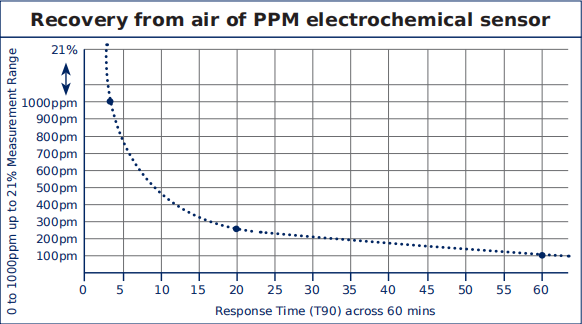 If you cannot find what you want, you can entrust ISweek to source for you. Just click:
Sourcing Service