Ultra-High Speed LABEL•EYE Label Sensor - LERRC10-M12
• Supply Voltage: 10 to 30 VDC
• Current Requirements: 45mA (exclusive of load)​
• Ambient Temperature:-40°C to 70°C (-40°F to 158°F)​
• 10 microseconds Response Time
• 5 microseconds Repeatability
• Waterproof, ratings: NEMA 4 and IP66
Quantity:

-

+
Product Specification
The Ultra-High Speed LABEL•EYE was specifically designed to overcome issues of speed and accuracy that are common in label applying, counting, printing, and inspecting. Designing a sensor that is accurate within just .004" at 2000 feet per minute is no small feat. This American designed and manufactured sensor also is the most affordable product in its class... starting at just under $150. It is the most economical solution as well as the most robust.
If the application is to print a date code in a small white box on a label, or on a web, there is no simpler product available at this speed and price. From start up speed to top line speeds, the Ultra-High Speed LABEL•EYE doesn't miss a single label, nor will it have to be adjusted for print migration/drifting or label landing inconsistency... it is just that repeatable.
If the overall cost of your current solution is less than desirable and expensive high speed label sensors provide an unreliable result, then applying the Ultra-High Speed LABEL•EYE should provide the worry free, reliable, and high level production accuracy desired.
High Speed Label Sensor Features
• 10 microseconds Response Time
• 5 microseconds Repeatability
• One Button AUTOSET
• Tweak-able Up/Down Adjustment
• M12, M8, or Cable Models
• Robust Electrical and Mechanical Design
• Remote AUTOSET on M12 Models
• Waterproof
High Speed Label Sensor Benefits
• Easy to Set Up
• Highly Accurate and Precise
• Low Maintenance
• Affordable, Low-Cost Option
• Made in USA
• Durable and Reliable
High Speed Label Sensor Applications
• Label Rewinding
• Label Applying
• Splice Detection
• High Speed Counting
• Perforation Detection
• Weld Seam Detection
• Registration Mark Sensing
Ultra-High Speed LABEL•EYE Label Sensor Specifications
SUPPLY VOLTAGE

• 10 to 30 VDC
• Polarity Protected

CURRENT REQUIREMENTS

• 45mA (exclusive of load)

OUTPUT TRANSISTORS

• (1) NPN and (1) PNP output transistors
• Sensor outputs can sink or source up to 150mA (current limit)
• All outputs are continuously short circuit protected

RESPONSE TIME

• 10 microseconds response time
• 5 microseconds repeatability

PUSH BUTTON CONTROL

• AUTOSET - One-push button setup
• LT/DK - Push and Hold to change output Light On/Dark On
• UP/DWN - Tweak-able Up/Down Adjustment

LED LIGHT SOURCE

• High intensity red LED
• Pulse modulated

HYSTERESIS

• Minimal hysteresis promotes the detection between the backing material and the label depending on the settings

LIGHT IMMUNITY

• Responds to sensor's pulsed modulated light source, resulting in high immunity to most ambient light

INDICATORS

• Green LED flashes when AUTOSET routine is activated and stays illuminated when AUTOSET is completed
• Red LED illuminates when sensor's output transistors are "ON".

AMBIENT TEMPERATURE

• -40°C to 70°C (-40°F to 158°F)

RUGGED CONSTRUCTION

• Chemical resistant high thermoplastic PPS housing
• Waterproof, ratings: NEMA 4 and IP66
• Conforms to heavy industry grade CE and UL requirements

Ultra-High Speed LABEL•EYE Label Sensor How to Specify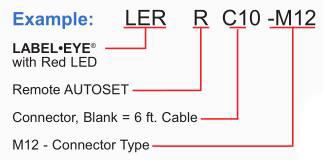 1. Select Sensor:
Ultra-High Speed LABEL•EYE
LERC10 = Red LED, 4-pin M8 Connector
LERR10 = Red LED, 5 Conductor, 6 ft. (1.8m) Cable
LERRC10-M12 = Red LED, 5-Pin, M12 Connector
2. Select Cable or Connector:
Blank = 6 foot (1.8m) Cable
C = 6 inch (152mm) pigtail with 5-pin connector (accessory cable required)

If you cannot find what you want, you can entrust ISweek to source for you. Just click:
Sourcing Service