Electronic Diffusion Tube for Air Quality Monitor - EDT-01
• NO2 Range: 0-5 ppm
• H2S Range: 0-50 ppm
• CO Range: 0-500 ppm
• NH3 Range: 0-100 ppm
• Temperature range: -20 to +50°C
• Humidity range: 10 to 90%rh continuous
• Temp. accuracy: ±0.5°C
• Sampling time: 1 to 256min
Quantity:

-

+
Product Specification
Alphasense now provides a solution to some old problems:
• Palmes-type diffusion tubes are commonly used for indicative measurement of nitrogen dioxide (NO2) in cities for Local Air Quality Management. But sampling over several weeks gives only one average concentration for the entire sampling period and the result is reported weeks after the measurement.
• Odours which were previously ignored by local industry and city councils are now headline problems. There is a growing requirement to monitor odour plumes around landfills, waste water treatment plants, agricultural/ poultry farms and industrial sites- but the cost of the necessary network of monitoring nodes is prohibitive. Hydrogen sulfide (H2S) or ammonia (NH3) are the two mot commonly measured gases for odour detection.
Alphasense introduces the Electronic Diffusion Tube (EDT): a single gas data logger with ppb resolution using the proven Alphasense A4 family of electrochemical ppb gas sensors.
EDT-01 Electronic Diffusion Tube Schematic Diagram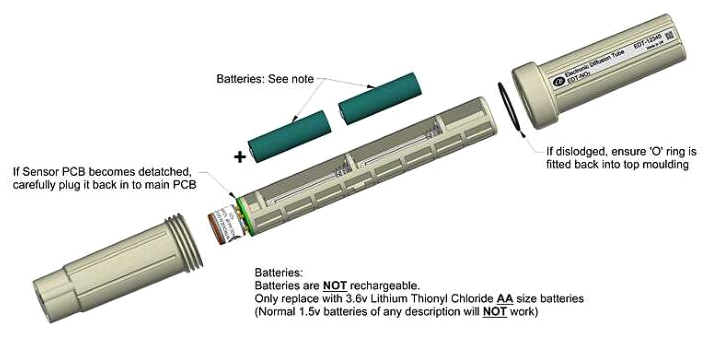 EDT-01 Electronic Diffusion Tube Features include:
• The low cost EDT makes networks affordable
• User- adjustable logging interval from one minute to four hours
• Also records relative humidity and ambient temperature
• Eight months battery life from two Lithium AA cells
• Data is downloaded in seconds via Bluetooth to the Android smart phone app
• Designed for waterproof to IP 67
• Mounting bracket connects easily to both walls and poles
• Gases include NO2, NO2+O3, H2S, NH3 and CO. Sensor data sheets specify performance.
Data analysis support available
EDT-01 Electronic Diffusion Tube SPECIFICATION
Range

ppm (NO2)

0-5

ppm (H2S)

0-50

ppm (CO)

0-500

ppm (NH3)

0-100

Temperature range

°C

-20 to +50

Humidity range

%rh

10 to 90 continuous

Temp. accuracy

-20 to +50°C

±0.5°C

Sampling time

min

1 to 256

Data storage capacity

stored readings

44,000

Power (battery)

2 x LiSOCl 14500 (AA)

8 months continuous use

V supply

V

3.75 (nominal)

Communication

low power Bluetooth

5- 10 m range for downloading

EDT dimensions

mm

25 dia x 170

EDT weight

g

<150

Mounting Bracket dims

mm

60 x 250

Mounting Bracket weight

g



EDT-01 Electronic Diffusion Tube Applications include:
• Co-locating with Palmes-type diffusion tubes to record diurnal and weekly patterns and peaks
• Monitoring urban construction sites for compliance, especially for peak concentrations
• Ring-fencing odour sources for plume monitoring- daily downloads provide regular feedback
•
Tracking ammonia plumes on poultry farms
•
Detecting fugitive emissions from industrial sites for both leak detection and ensuring compliance
• Low cost educational tool when teaching about air quality
If you cannot find what you want, you can entrust ISweek to source for you. Just click:
Sourcing Service