Hydrogen Chloride Sensor (HCL Sensor) - HCL-A1
• Range: 100ppm HCl limit of performance warranty
• Sensitivity: 80 to 130 nA/ppm in 25ppm HCl
• Response time t90: < 300s from zero to 25ppm HCl
• Resolution: < 1 RMS noise (ppm equivalent)
• Temperature range: -30 to +50°C
• Pressure range​: 80 to 120 kPa
• Humidity range: 15 to 90% rh continuous
• Weight: < 6g
Quantity:

-

+
Product Specification
HCL-A1 Hydrogen Chloride Sensor HCL Sensor Description
Alphasense is expanding its line of electrochemical Toxic Gas Sensors to address industry-specific requirements, including emissions monitoring, process safety, environmental monitoring and VOCs.

Hydrogen Chloride (HCl)/Hydrogen Bromide (HBr)
The HCL sensor also detects Hydrogen Bromide (HBr). These HCL sensors are zero biased for easier use.
Available in A and B series.
HCL-A1 Hydrogen Chloride Sensor HCL Sensor Schematic Diagram

HCL-A1 Hydrogen Chloride Sensor HCL Sensor PERFORMANCE

Sensitivity

nA/ppm in 25ppm HCl

80 to 130

Response time

t90 (s) from zero to 25ppm HCl

< 300

Zero current

ppm equivalent in zero air

< ±2.5

Resolution

RMS noise (ppm equivalent)

< 1

Range

ppm HCl limit of performance warranty

100

Linearity

ppm error at full scale, linear at zero, 40ppm HCl

0 to 6

Overgas limit

maximum ppm for stable response to gas pulse

200







HCL-A1 Hydrogen Chloride Sensor HCL Sensor LIFETIME

Zero drift

ppm equivalent change/year in lab air

nd

Sensitivity drift

% change/year in lab air, monthly test

nd

Operating life

months until 80% original signal (12 month warranted)

nd







HCL-A1 Hydrogen Chloride Sensor HCL Sensor ENVIRONMENTAL

Sensitivity @ -20°C

% (output @ -20°C/output @ 20°C) @ 25ppm HCl

65 to 90

Sensitivity @ 50°C

% (output @ 50°C/output @ 20°C) @ 25ppm HCl

102 to 120

Zero @ -20°C

ppm equivalent change from 20°C

< 0 to 4

Zero @ 50°C

ppm equivalent change from 20°C

< +1 to -5







HCL-A1 Hydrogen Chloride Sensor HCL Sensor CROSS SENSITIVITY

H2S sensitivity

% measured gas @ ppm H2S

< 250

NO2 sensitivity

% measured gas @ ppm NO2

< -150

Cl2 sensitivity

% measured gas @ ppm Cl2

< -20

NO sensitivity

% measured gas @ ppm NO

< 2

SO2 sensitivity

% measured gas @ ppm SO2

< 0.1

CO sensitivity

% measured gas @ ppm CO

< 0.1

H2 sensitivity

% measured gas @ ppm H2

< 0.1

C2H4 sensitivity

% measured gas @ ppm C2H4

< 0.1

NH3 sensitivity

% measured gas @ ppm NH3

< 0.1

CO2 sensitivity

% measured gas @ 5% CO2

< 0.1







HCL-A1 Hydrogen Chloride Sensor HCL Sensor KEY SPECIFICATIONS

Temperature range

°C

-30 to +50

Pressure range

kPa

80 to 120

Humidity range

% rh continuous

15 to 90

Storage period

months @ 3 to 20°C (stored in original container)

6

Load resistor

Ω (recommended)

10 to 33

Bias voltage

mV

not required

Weight

g

< 6

Matched Transmitter board for HCL-A1 HCL Sensor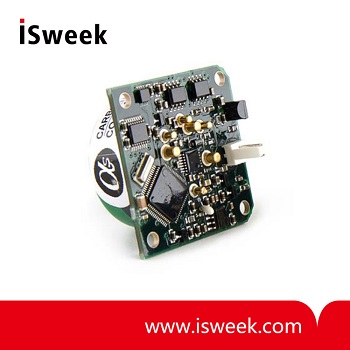 4-20mA Digital Transmitter Board
• Factory calibration, custom-set for immediate use
• Digital zero, sensitivity and temperature compensation
• Digital and 4-20mA output
• Biased or unbiased operation
• Calibration and range change
If you cannot find what you want, you can entrust ISweek to source for you. Just click:
Sourcing Service