Flange Mount Zirconia Oxygen Sensor - O2S-FR-T4-5P
• Oxygen pressure range 2 mbar - 3bar
• Zirconium dioxide (ZrO2 ) sensing elements
• Non-consumption technology
• Integral heating element
• No need for temperature stabilisation
• No reference gas required
• High accuracy
• Linear output signal
• Operates with external interface boards
Quantity:

-

+
Product Specification
Flange Mount Zirconia Oxygen Sensor Description
The Flange Mount Zirconium Dioxide Oxygen Sensor is designed for easy sealing into a manifold or sampling chamber. Favoured by SST's aerospace customers and in applications that require high temperature and pressure operation.

SST's range of zirconium dioxide oxygen sensors use a unique closed loop measurement system. While the sensor continuously measures the oxygen level, a heartbeat signal is also generated providing an immediate warning of any failures.

Their long operating life is due to the non-depleting sensor cell technology. No reference gas is required and easy single point calibration can be performed in any known gas including fresh air.

The Flange Mount oxygen sensor offers 4 or 5 pin termination, a temperature range of -100 to 400⁰C and response time of less than 4 seconds. The oxygen sensor offers a linear output signal, a lifetime of up to 10 years (depending on the application) and covers an oxygen range 0.1 to 100% O₂.
The Flange Mount Zirconium Dioxide Oxygen Sensor is designed for easy sealing into a manifold or sampling chamber. Favoured by SST's aerospace customers and in applications that require high temperature and pressure operation.

O2S-FR-T4-5P Zirconia Oxygen Sensor FEATURES
• Zirconium dioxide (ZrO2) sensing elements
• Long life, non-depleting technology
• Integral heating element
• High accuracy
• Requires an external interface board to operate

O2S-FR-T4-5P Zirconia Oxygen Sensor BENEFITS
• No reference gas required
• No need for temperature stabilisation
• Flange mounting

O2S-FR-T4-5P Zirconia Oxygen Sensor TECHNICAL SPECIFICATIONS
Heater voltage
Operating
Standby


4.35VDC ± 0.1VDC (1.85A)
2VDC (0.85A)

Pump impedance at 700°C

< 6kΩ

Permissible gas temperature

-100°C to +400°C

Gas flow rate

0 - 10 m/s

Repetitive permissible acceleration

5g

Incidental permissible acceleration

30g

O2S-FR-T4-5P Zirconia Oxygen Sensor OU
TPUT VALUES
| | |
| --- | --- |
| Oxygen pressure range | 2mbar - 3bar max |
| Accuracy | 5mbar max |
| Internal operational temp | 700°C |
| Response time (10 - 90% step) | < 4s |
| Warm up time (prior to sensor operation) | 60s |
| Warm up time (from standby) | 20s |
| Output stabilisation time | ~ 180s |
O2S-FR-T4-5P Zirconia Oxygen Sensor OUTLINE DRAWING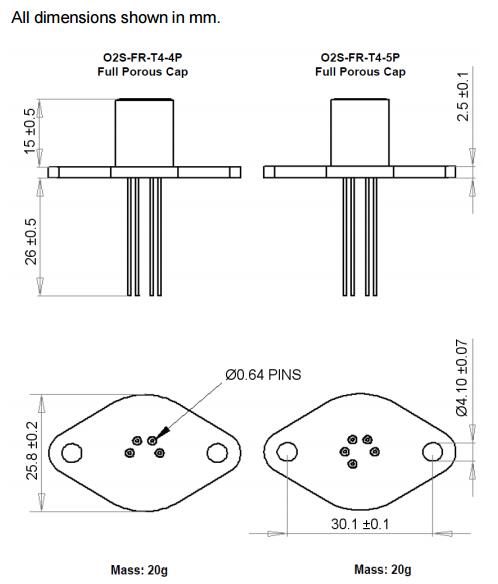 If you cannot find what you want, you can entrust ISweek to source for you. Just click:
Sourcing Service