HRXL-MaxSonar-WRS Series Ultrasonic Rangefinder MB7334, MB7344, MB7354 - MB7364, MB7374, MB7384
• Low cost ultrasonic rangefinder
• Detection out to 5-meters
• Resolution of 1-mm
• Distance sensor from 50-cm to 5-meters
• Operating temperature range from -40°C to +65°C
• Operating voltage from 2.7V to 5.5V
• Best operated at 5V for snow applications
• Nominal current draw of 2.3mA at 3.3V, and 3.1mA at 5V
• IP67 Rated
Quantity:

-

+
Product Specification
HRXL-MaxSonar-WRS Series
High Resolution, IP67 Weather Resistant, Ultrasonic Snow Depth Sensor
MB7334, MB7344, MB7354, MB7364, MB7374, MB7384

HRXL-MaxSonar-WRS Series Ultrasonic Rangefinders Product Description
The HRXL-MaxSonar-WRS sensor line is a cost-effective solution for applications where precision range-finding, low-voltage operation, space saving, low-cost, and IP67 weather resistance rating is needed. This sensor component module allows users of other, more costly precision ultrasonic snow depth measurement rangefinders to lower the cost of their systems without sacrificing performance. Additionally, this sensor line allows cost-sensitive designers to choose this precision sensor as a performance upgrade over other lower performance sensors. The HRXL-MaxSonar-WRS sensor line provides high accuracy and high resolution ultrasonic proximity detection and ranging in air, with an IP67 weather resistant rating. This sensor line features 1-mm resolution, target-size and operating-voltage compensation for improved accuracy, superior rejection of outside noise sources, internal speed-of-sound temperature compensation and optional external speed-of-sound temperature compensation. The HRXL-MaxSonar-WRS sensors have a maximum range of 5-meters.

This ultrasonic sensor detects objects from 1-mm and ranges to objects from 50-cm to maximum range. Objects closer than 50-cm are typically reported as 50-cm. The interface output formats are pulse width, analog voltage, and digital serial in either RS232 or TTL. Factory calibration is standard.

Precision Ultrasonic Range Sensing
• Range-finding at a fraction of the cost of other precision rangefinders
• Reading-to-reading stability of 1-mm at 1-meter is typical
• Accuracy is factory-matched providing a typical accuracy of 1% or better
• Compensation provided for target size variation and operating voltage range
• Internal temperature compensation is standard
• Optional external temperature compensation
• Determines range to first detectable object
• Excellent clutter rejection
• Additional chemical resistance available

Very Low Power Requirements
• Wide, low supply voltage requirements eases battery powered design
• Low current draw reduces current drain for battery operation
• Fast first reading after power-up eases battery requirements
• Very low-power rangerfinder, excellent for multiple sensor or battery based systems

Easy to use Component Module
• Gracefully handles other ultrasonic sensors
• Stable and reliable range readings and excellent noise rejection make the sensor easy to use for most users
• Easy to use interface with distance provided in a variety of output
• Target size compensation provides greater consistency and accuracy
• Sensor automatically handles acoustic noise
• Small and easy to mount
• Calibrated sensor eliminates most sensor to sensor variations

Range Outputs
• Pulse width, 1uS/mm resolution
• Analog Voltage, 5-mm resolution
• Serial, 1-mm resolution
• Available in RS232 or TTL

HRXL-MaxSonar-WRS Series Ultrasonic Rangefinders General Characteristics
• Low cost ultrasonic rangefinder
• Detection out to 5-meters
• Resolution of 1-mm
• Distance sensor from 50-cm to 5-meters
• Excellent 1 Mean Time Between Failure (MTBF)
• Triggered operation yields real-time range data
• Free run operation with superior noise rejection
• Operating temperature range from -40°C to +65°C
• Operating voltage from 2.7V to 5.5V
• Best operated at 5V for snow applications
• Nominal current draw of 2.3mA at 3.3V, and 3.1mA at 5V
• IP67 Rated

HRXL-MaxSonar-WRS Series Ultrasonic Rangefinders Applications & Uses
• Weather station monitoring
• Snow level measurement (MB7354, MB7374)
• Bin level measurement
• Corn level measurement
• People detection
• This product is not recommended as a device for personal safety

HRXL-MaxSonar-WRS Series Ultrasonic Rangefinders Part Numbers
All part numbers are a combination of a six-character base followed by a dash and a three-digit product code. Please review the following table for more information on the three-digit product code.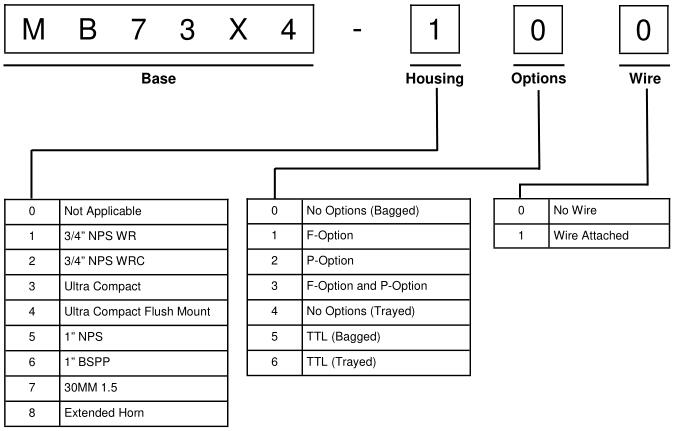 The following tables display all of the active and valid part numbers for these products.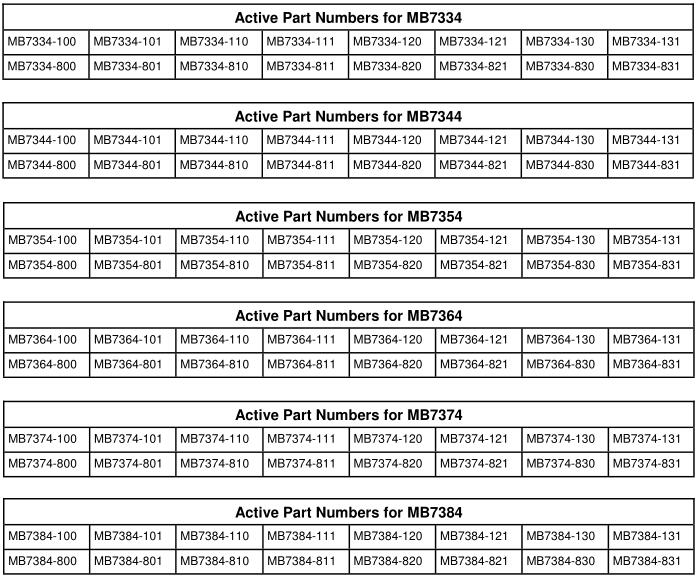 If you cannot find what you want, you can entrust ISweek to source for you. Just click:
Sourcing Service