Low Pressure Mass Flow Meters - MF-GD Series
• Accuracy: ±(1.5+0.5 FS)%
• Turn-down Ratio: 100:1
• Max. Working Pressure: 0.2 MPa
• Environment Tenperature: -20 ~ +60℃
• Humidity: < 95%RH (No icing or condensation)
• Power Supply: 3.6V battery (L3638A)
• Output: RS485, Pulse

Quantity:

-

+
Product Specification
MF-GD Series Mass Flow Meters General description
The MFGD series mass flow meters are specially designed for metering utility gas such as naturalgas. These meters are powered by battery and ideal for replacement of traditional mechanicalmeters where the rangeability or turn-down ratio often falls short of actual accumulated flow. 
In addition, the mass flow meters do not require additional temperature and pressurecompensation and are ready for networking or remote data access. The meters can beapplied to pipe diameters from 25 to 100 mm and gas flow speed from 0.1 to 1500 Nm3/hr,with a rangeability or turn-down ratio over 100:1. 
MFGD Series have 5 models, with design number MF32GD/MF50GD/MF65GD/MF80GD.
MF-GD Series Mass Flow Meters Features and Applications
- Specially designed for city gas metering
- Automatical compensation for temperature and pressure variations
- Integrated MEMS sensors for extended rangeability
- Proprietary low power technology ensures the long lasting battery life
- Small form factors reduce logistical and installation cost
- Large data storage for easy historical data download and analysis
- All electronic meters ready for data access and networking
- User friendly interface for prepaid IC card system with valve control

MF-GD Series Mass Flow Meters Mechanical Dimensions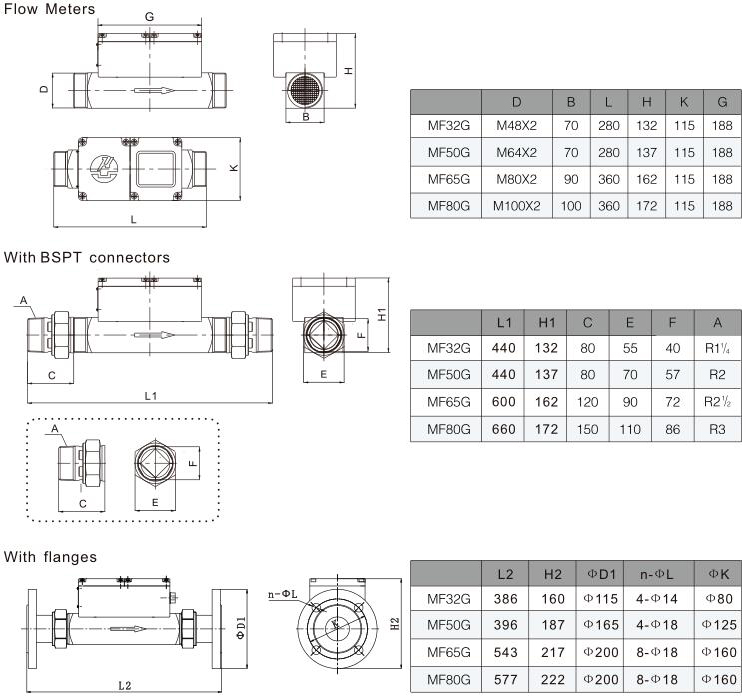 MF-GD Series Mass Flow Meters Specifications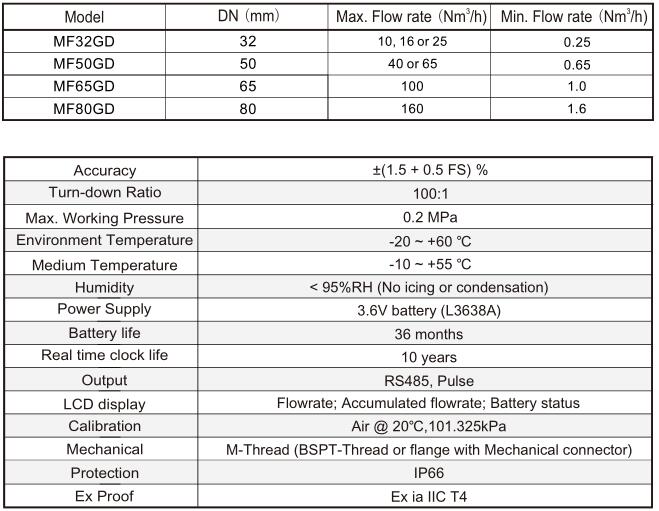 MF-GD Series Mass Flow Meters Production Selection

If you cannot find what you want, you can entrust ISweek to source for you. Just click:
Sourcing Service