LV-ProxSonar-EZ4 High Performance Ultrasonic Rangefinder - MB1044
• Resolution of 1 inch
• Maximum reported range of 254 inches (645 cm)
• ~1 foot proximity detection zone (12 inches or 30 cm)
• 42kHz Ultrasonic sensor measures distance to objects
• RoHS Compliant
• Operates from 2.5-5.5V
• Low 2.0mA average current requirement
• Choice of 2 digital outputs: Logic Level (High/Low) and RS232 serial
Quantity:

-

+
Product Specification
MB1044 LV-ProxSonar-EZ4
High Performance Ultrasonic Rangefinder

MB1044 LV-ProxSonar-EZ4 Ultrasonic Rangefinder Product Description
These ultrasonic proximity sensors detect objects in a calibrated detection zone. The
LV-ProxSonar-EZ
sensors report when an object (such as a person) enters the detection zone. The target is released after leaving the LV-ProxSonar-EZ detection zone.
The LV-ProxSonar-EZ4 has a detection zone of ~1 feet and will allow for 15+ simultaneous sensors.
MB1044
LV-ProxSonar-EZ4
Ultrasonic Rangefinder
Product Specifications
• Resolution of 1 inch
• ~2.5 second target acquire time*
• ~1.5 second target release time*
• Automatic multi-sensor operation
• People sensor
• Maximum reported range of 254 inches (645 cm)
• ~1 foot proximity detection zone (12 inches or 30 cm)
• Run up to 15+ sensors in the same environment
• Choice of 2 digital outputs: Logic Level (High/Low) and RS232 serial
• 42kHz Ultrasonic sensor measures distance to objects
• RoHS Compliant
• Read from sensor outputs: Serial and Pulse Width
• Virtually no sensor dead zone, objects closer than 6 inches range as 6 inches
• Operates from 2.5-5.5V
• Low 2.0mA average current requirement
• Small, light weight module
• Designed for easy integration into your project or product
• Short range detection
*Custom times available for a nominal NRE fee

MB1044 LV-ProxSonar-EZ4 Ultrasonic Rangefinder Part Numbers
All part numbers are a combination of a six-character base followed by a dash and a three-digit product code. Please review the following table for more information on the three-digit product code.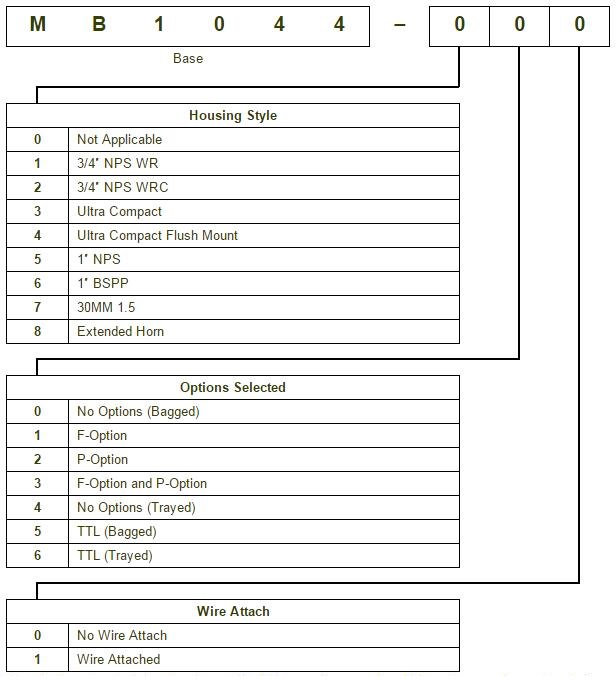 The following table displays all of the active and valid part numbers for this product.
Active Part Numbers

MB1044-000

MB1044-040

If you cannot find what you want, you can entrust ISweek to source for you. Just click:
Sourcing Service