SMD Gage Pressure sensor Module - MS5536C
• Pressure range -400 to 1000 mbar (Optional -1000 to 400 mbar)
• 0.1 mbar Resolution
• 3-wire serial interface
• Low voltage / low power
• 16-Bit ADC Resolution
• Supply voltage 2.2 V to 3.6 V
• Operating temperature range -40°C to +60°C
Quantity:

-

+
Product Specification
MS5536C
SMD Gage Pressure Module

MS5536C SMD Gage Pressure Module Specifications
• Pressure range -400 to 1000 mbar (Optional -1000 to 400 mbar)
• 0.1 mbar resolution (16 bits)
• Factory Calibrated (coefficients for software compensation stored on-chip)
• 3-wire serial interface
• Low Voltage / low power
MS5536C SMD Gage Pressure Module Description
MS5536C is a family of high-resolution factory calibrated pressure sensors. The devices include a piezoresistive pressure sensor and an ADC-Interface IC. The 3-wire serial interface ensures simple communication with any microcontroller. The devices provide digital pressure and temperature information as 16-Bit data word each. In addition 64-Bit of individually calibrated compensation coefficients are stored allowing for a highly accurate software compensation of process spread and temperature effects.

The devices have a very low standby current and automatically enter power down mode after each conversion. The optimum compromise of refresh rate and average current consumption can be defined by the application software.


MS5536C SMD Gage Pressure Module Features
• 16-Bit ADC Resolution
• Supply voltage 2.2 V to 3.6 V
• Low supply current
• -40°C to +60°C
• Small size
• No external components required
MS5536C SMD Gage Pressure Module Applications
• Medical application
• Blood pressure meter
• Air flow measurement
• HVAC application

MS5536C SMD Gage Pressure Module Device Package Outlines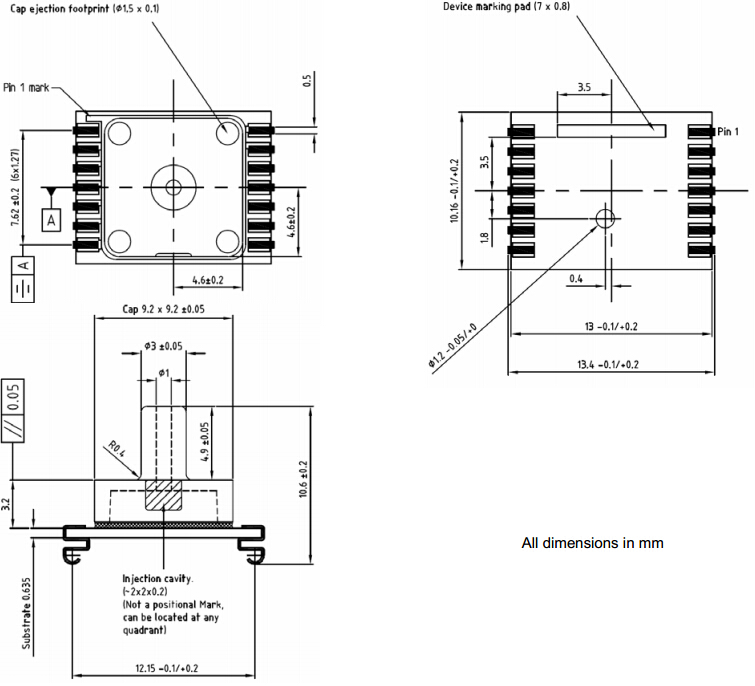 MS5536C SMD Gage Pressure Module Ordering Infomation

Product Code

Product

Art. No

Package

Comments

MS5536-CPJU

SMD Gage
Pressure Module
RoHS

325536008

Gage with plastic cap, upright
nozzle, vent hole on backside,
J-Lead type

Pressure Range (port1 - port2):
-400 mbar …+1000 mbar

MS5536-CNJU

SMD Gage
Pressure Module
RoHS

325536009

Gage with plastic cap, upright
nozzle, vent hole on backside,
J-Lead type

Pressure Range (port1 - port2):
-1000 mbar …+400 mbar

If you cannot find what you want, you can entrust ISweek to source for you. Just click:
Sourcing Service