Ultrasonic Sensor Module for a Robot - HG-M40/HG-L40 Series
• Frequency: 40±2 KHz)
• Input Pulse: TTL or Pulse (2 V ~ 10 V)
• Repetition Rate of Input Pulse: 10 Hz ~ 30 Hz
• Input DC Power (Vdc): 10 V ~ 16 V
• Driving Voltage for Sensor: 60~70 Vpp at 12V Vdc
• Output Signal: 5 V TTL
• Minimum Dead Zone
• 3 types of Modules
Quantity:

-

+
Product Specification
HG-M40/HG-L40 Series Ultrasonic Sensor Module Description


1. Module

① Transceiver(D) :
• Not only it works as Transceiver module but also it can be used as transmitter or receiver with different wire connection. Transceiver can detect from 30cm~40cm and farther since it has to transmit the ultrasonic waves and wait until it returns. However, it is possible to perceive whether objects are there or not.
② Transmitter(T) : Only transmits the ultrasonic waves.
③ Receiver(R) : Only receives the ultrasonic waves.
※ 1~2cm of close detection is available when 2 or more sets of transmitters and receivers are used.
※ In the same way, even in the case of Transceiver, when it is used as either Transmitter or Receiver independently, it can measure an obstacle as nearest as 1~2Cm.

2. Mode
① Trigger Input Mode (M-type)
② Burst Input Mode (L-type)

3. Difference between M-type and L-type.

Trigger Input Mode
Burst Input Mode
- Built in 40kHz oscillator
- Always 'Standby'
- Wave occurs one by one with external trigger pulse.
- Pulse frequency is adjustable but trigger burst and
duration time(approx. 1mS) are fixed.
- Strong ultrasonic wave with low click noise.

- Simple structure with only amplifier and output circuitry
(No oscillator).
- External 40 kHz burst signal must be given to operate.
(external oscillator or software is needed to make signal)
- Changeable pulse frequency, duration time and
radio frequency at user's convenience.
- Multi channel available with CPU circuit or S/W.


HG-M40/HG-L40 Series Ultrasonic Sensor Module for a Robot Features
• Object Detector and Range Finder
• Medium Range
• Various Directivities
• Low 'Click Noise'
• Indoor Environment
• Minimum Dead Zone
• Real-Time Signal(5V TTL)
• Operates at 40kHz
• 3 types of Modules
- Transceiver(HG-M40D)
- Transmitter(HG-M40T)
- Receiver(HG-M40R)

HG-M40/HG-L40 Series Ultrasonic Sensor Module for a Robot Specifications

Frequency (KHz)

40±2

Input Pulse

TTL or Pulse
(2 V ~ 10 V)

Repetition Rate of Input Pulse

10 Hz ~ 30 Hz

Input DC Power (Vdc)

10 V ~ 16 V

Driving Voltage for Sensor

60~70 Vpp at 12V Vdc

Output Signal

5 V TTL

Available for a transmitter only, a receiver only or a dual type
(both a transmitter and a receiver)

HG-M40/HG-L40 Series Ultrasonic Sensor Module for a Robot Product Line-Up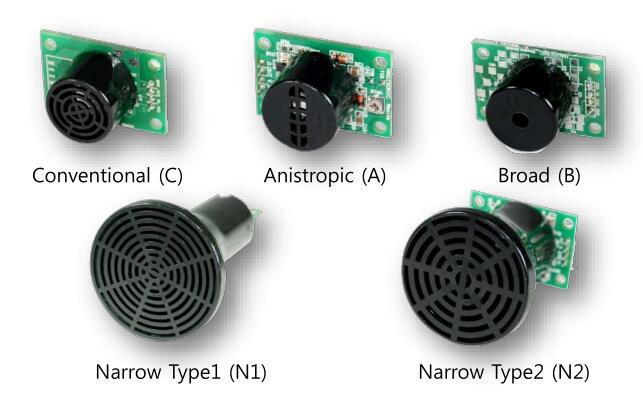 Type

Mode

Module

Model Name

Directivity (°)

Distance (m)


Conventional

(C)

Trigger Input

Duplex
Transmitter
Receiver

HG-M40DC
HG-M40TC
HG-M40RC

65

0.4 ~ 4.5m
0 ~ 6m
0 ~ 6m

Burst Input

Duplex
Transmitter
Receiver

HG-L40DC
HG-L40TC
HG-L40RC

0.4 ~ 6m
0 ~ 6m
0 ~ 6m


Anistropic

(A)

Trigger Input

Transmitter
Receiver

HG-M40TA
HG-M40RA

H : 160
V : 65

0 ~ 3.5m

Burst Input

Transmitter
Receiver

HG-L40TA
HG-L40RA

Broad
(B)

Trigger Input

Transmitter
Receiver

HG-M40TB
HG-M40RB

150

0 ~ 2m

Burst Input

Transmitter
Receiver

HG-L40TB
HG-L40RB

Narrow Type1
(N1)

Trigger Input

Duplex

HG-M40DN1

12

0.4 ~ 9m

Burst Input

Duplex

HG-L40DN1

Narrow Type2
(N2)

Trigger Input

Duplex

HG-M40DN2

25

0.4 ~ 7m

Burst Input

Duplex

HG-M40DN2

If you cannot find what you want, you can entrust ISweek to source for you. Just click:
Sourcing Service