Piezoresistive Silicon Stainless Steel Pressure Sensors - SPM402 Series
• 5 to 500 PSI Pressure ranges
• -40 to 125°C Temperature Range
• Calibrated and compensated output
• Supply voltage 10V
• O-ring mounting
• High accuracy (max 0.25% linearity and max 0.05% hysteresis)
Quantity:

-

+
Product Specification
Piezoresistive Silicon Pressure Sensor for medium pressure ranges

SPM402 Series Piezoresistive Silicon Pressure Sensors General Description
The SPM 402 Series offers piezoresistive silicon, stainless steel pressure sensors. Media isolated sensors are designed to operate in hostile environments, yet provide the outstanding sensitivity, linearity, and hysteresis of a silicon sensor. This pressure sensor is compatible with 316L stainless steel, a type of steel that increases corrosion resistance, improves resistance to pitting from chloride ion solutions, and provides increased strength at high temperatures.

The piezoresistive sensor chip is housed in a fluid-filled cylindrical cavity and isolated from measured media by a stainless steel diaphragm and body. The oil-filled cavity in this unique pressure sensor design is at a minimum volume so the accuracy is greatly improved. The SPM 402 silicon pressure sensor is a thermally compensated device and has a millivolt output of up to 210mV at a 1mA supply current (or supply voltage 10V). This new pressure sensor offers design engineers excellent performance in various applications, especially for mid to high pressure and smaller solutions.

SPM402 Series Piezoresistive Silicon Pressure Sensors Features
• Calibrated and compensated
• With media separation
• Excellent chemical resistance
• O-ring mounting
• Pressure ranges: 5 to 500 psi

SPM402 Series Piezoresistive Silicon Pressure Sensors Applications
• Industrial
• Pneumatic and hydraulic components (e.g. valves, pumps)
• Level measuring (e.g. environmental technology)
• Process industry

SPM402 Series Piezoresistive Silicon Pressure Sensors Specifications
All parameters are measured at supply current 1 mA at reference conditions unless otherwise specified.

Standard Pressure Ranges

PSI

bar

Output signal (Offset) [mV]

Output signal (Span) [mV]


Proof pressure

[PSI/bar]

Negative pressure

[PSI/bar]

Burst pressure

[PSI/bar]

min.

typ.

max.

min.

typ.

max.

5
0.35
-2

0

2

50

75
100
30
2
--
--
45
≥ 3

15
1
100
145
210
75
5
--
--
112
≥ 7.5

30
2
95
150
200
150
10
--
--
225
≥ 15

50
3.5
80
125
180
250
17.5
--
--
375
≥ 25

100
7
100
150
210
500
35
-15

-1

750
≥ 50

300
20
95
150
200
1200
80
-15

-1

1800
≥ 120

500
35
1200
175
240
1500
105
-15

-1

3150
≥ 210

Supply / Performance



min.

typ.

max.

Supply current [mA]

-
1
3
Supply voltage [V]

-
-
10
Linearity [% FSO BFSL]

-0.25

± 0.1

0.25

Hysteresis [%FSO]

-0.05

± 0.03

0.05

Input impedance [kΩ]

4.0 to 6.0

Output impedance [kΩ]

4.0 to 6.0

Insulation resistance [MΩ]

50 (between housing and sensor chip) @ 50 V DC

Thermal errors



min.

typ.

max.

TC Offset [% FS0/10K]

-0.7

-0.1

0.7
TC Span [% FS0/10K]

-2.4

-1.9

-1.6

TC resistance [%/10K]

2.4

2.75

3.3

All parameteres are measured in the temperature range of 0 to 70 °C (32 to 158 °F)

Operating temperature ranges

Media

-40 to 125 °C (-40 to 257 °F)

Storage

-40 to 125 °C (-40 to 257 °F)

Mecanical stability

Vibration

10 g RMS (20 to 2000 Hz)

Schock

100 g / 11 ms

Electrical conditions

Standard

4 solder pads ppitch 2.54

Materials

Housing

Stainless steel 316L (1.4404)

Diaphragm

Stainless steel 316L (1.4435)

Media wetted parts

Housing, diaphragm

Miscellaneous

Installation position

any

Protection class

IP 00

Weight

Standard: approx. 10 g

Sealing

O-Ring 15.5 x 1.5 (material: FKM)

SPM402 Series
Piezoresistive Silicon Pressure Sensors
Ordering Codes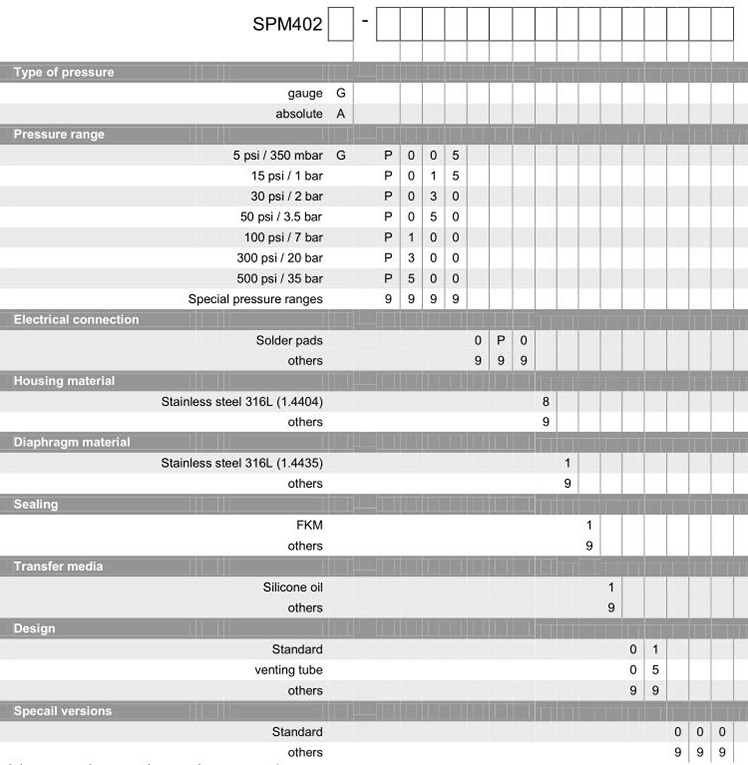 If you cannot find what you want, you can entrust ISweek to source for you. Just click:
Sourcing Service